Destination: Pittsburgh, PA
Flights From Altoona-Blair County Airport (AOO)
Fly Altoona
If you're traveling to Pittsburgh from Altoona, Huntingdon, Bedford, or State College, save yourself the hassle of driving and Fly Altoona! Depart from Altoona-Blair County Airport and arrive in Pittsburgh in just 50 minutes with no traffic, tolls, tunnels, tiresome driving or stressful delays. Enjoy free parking, fast, easy check-in and screening, a full range of amenities, clean, spacious accommodations, and so much more. You can be in the air and on your way in minutes!
Airline Tickets From $29
Why drive? With one-way tickets from $29*, Fly Altoona offers the best value for travelers!
Pittsburgh International Airport
(PIT)
Whether your destination is Pittsburgh or you're boarding a connecting flight at Pittsburgh International Airport (PIT) to any domestic or international destination, Fly Altoona will get you there with the reliability you need – and luxurious accommodations you will appreciate. Park your car for free at Altoona-Blair County Airport. Affordable rental car options are abundant in Pittsburgh, PA!
Plan your trip and itinerary before you go and enjoy everything the Pittsburgh International Airport has to offer. Some consider it a destination all its own!

PIT Map and Amenities
Pittsburgh International Airport (PIT) offers a wide range of amenities to comfort, refresh, and rejuvenate weary travelers. View the PIT Interactive Map to help guide your way.

Food & Dining
Grab a tasty snack or meal at locations throughout the concourse and food courts. Charge up with America's favorite donuts and coffee with breakfast sandwiches served all day at Dunkin' Donuts. Enjoy Auntie Anne's soft pretzels and the exquisite lattes, espressos, teas, vegan juices, and healthy, energizing salads and light meal options at Joe & the Juice. In a rush? Don't skimp on taste! Grab a quick, flavorful bite at Chik-Fil-A.
Enjoy a homestyle meal with Greek flair and breakfast served up right away all day at Marathon Diner. Stop in to bellfarm Kitchen | Bar on the lobby level of Hyatt Regency (Floor 2 of PIT) for a farm-to-table meal experience, seasonal cuisine, and drinks at the bar. Experience the exotic taste of the Far East at Chai's Pittsburgh Fusion on Floor 3.
Don't miss the "Almost Famous" flavor of Pittsburgh's own award-winning Primanti Bros. sandwiches – stacked high with mounds of savory beef, turkey, or pork, fresh cheeses, tart cole slaw, and freshly fried French fries – served just for you on Italian bread. Add your choice of hand-tossed pizza, crispy wings with house-made sauce, batter-dipped pub pickles, colossal onion rings, mozzarella wedges, and much more. This is the traditional taste of the Steel City – a Pittsburgh institution since 1933!
Convenience Amenities
PIT's 1st Floor offers a bicycle station, Smarte Carte, and PNC Bank ATM, as well as the baggage claim area, a 7-Eleven, pet relief area, numerous vehicle rental services, and the helpful associates at the Airport Ambassador Desk and Visit Pittsburgh Information Desk.
Floor 2 hosts the TSA Security Checkpoint, Clearview Credit Union and ATM, and PNC Bank ATM.
Shop for fine Sarris Candies and visit Best Buy Express, Hudson News souvenirs, and Rite Aid on the 3rd Floor, as well as Jabbrrbox, FuelRods device charger Kiosk, Kidsport, the Military Lounge and Mother's Nursing Lounge, Sensory Room, PNC Bank ATM, U.S. Post Office, Fraley's Robot Repair Shop, and indoor pet relief area.
Head up to the 4th Floor for the American Airlines Admirals Club and Interfaith Chapel. All these and more help make your visit to Pittsburgh International Airport convenient.
Things to Do in Pittsburgh, PA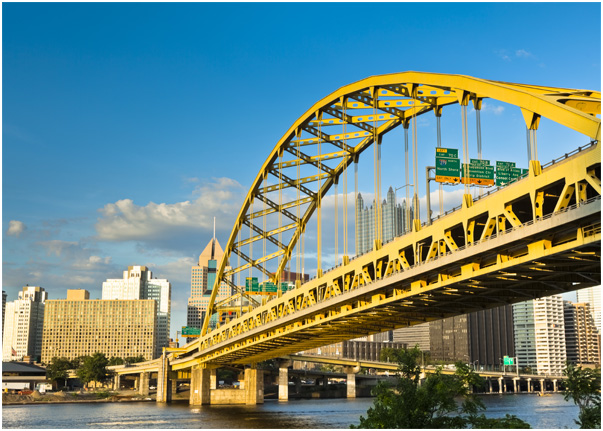 Go with the flow! Three rivers (The Allegheny, Monongahela, and Ohio) become one at The Point in Pittsburgh, making the Steel City a unique travel destination for guest around the world. River recreation opportunities include pleasure boat and dinner cruises aboard the Gateway Clipper Fleet, hiking and biking on the Three Rivers Heritage Trail, and celebrating the rivers with an F1 ChampBoat Series race, music, and great festival food during the annual Pittsburgh Three Rivers Regatta.
World-Class Sports and Concert Venues
Home to the Pittsburgh Steelers, Penguins, and Pirates teams, Heinz Field, PPG Paints Arena, and PNC Park are bordered by the 3 Rivers, as well – offering sports and concert fans an exciting and memorable experience with views of the Pittsburgh skyline and riverfront.
Unique Arts, Science and Cultural Experiences
Phipps Conservatory and Botanical Gardens – Featuring spectacular seasonal floral shows, butterflies, gardens, a nationally recognized orchid collection, and activities for the whole family.
Carnegie Science Center – There's always something fascinating going on at this museum – one of several Carnegie Museums in Pittsburgh Visit the planetarium and giant cinema, explore exhibits, live shows, and more.
Pittsburgh Symphony Orchestra – Experience the Grammy Award-winning sound of Pittsburgh's professional orchestra.
Pittsburgh Zoo & PPG Aquarium
Pittsburgh is home to the world-class Pittsburgh Zoo and PPG Aquarium. As one of the leading humane-certified zoo facilities in the United States, Pittsburgh Zoo partners with international organizations to safeguard and revitalize species in need. The zoo was initially established as a zoological garden menagerie in 1898. Today, it exhibits over 4,000 animals representing 475 unique species of mammals, reptiles, birds, amphibians, and fish. African elephants and lions, Amur tigers, flamingos, California sea lions, zebras, Komodo dragons and cheetahs are just a few of the species that roam the 77-acre grounds.
Exhibits open to guests include: African Savanna, Jungle Odyssey, Forest Passage, Water's Edge, Islands, and Tropical Forest habitats, as well as the spectacular PPG Aquarium and Kid's Kingdom. Visitors can enjoy in-person and virtual wild species encounters, soar over the zoo's jungle habitat on a zipline, and much more with full ADA-compliant accommodations for guests of all abilities.
Local Treasures
Duquesne Incline – View the Pittsburgh skyline from 400' above Mount Washington on one of the original cable cars circa 1877.
Strip District – Shop some of the best international merchants in Pittsburgh and enjoy delicious local and international cuisine in one of Pittsburgh's most famous neighborhoods (located just outside downtown Pittsburgh on the banks of the Allegheny from 11th to 33rd Street south to Liberty Avenue). Here, you will also find the Heinz History Museum (home of Mister Rogers' Neighborhood). If you'll be in the area awhile, be sure to visit some of the other wonderful neighborhoods in Pittsburgh, as well!
Craft Brewery Tour – Pittsburgh is home to many fine local breweries. If you're a fan of a good ale, porter, or handcrafted microbrew, check out what the Steel City has to offer.
For additional information about Pittsburgh International Airport, please call PIT at : (412) 472-3525.
IMPORTANT INFORMATION FOR U.S. CITIZENS TRAVELING ABROAD
AND INDIVIDUALS ARRIVING IN THE UNITED STATES
International Airport Travelers: 
Please review the Know Before You Go notifications and travel videos from U.S. Customs and Border Protection in their entirety and review any relevant travel advisories prior to travel:
Do you have a question about Altoona-Blair County Airport? We are happy to help!
Please call our Customer Service Center at (814) 793-2027.
Book Now Call to reserve your flight: 1 (855) 268-8478